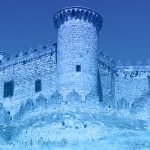 Where does the name Talus come from?
A Talus was an architectural feature of late medieval castles, which consisted of sloping walls at the base to help prevent attackers from raising ladders effectively and making siege tower gangplanks less likely to be able to give attackers access to the top of the wall.
In the Healthcare world, Talus is the name of a major bone in the ankle which transmits the entire weight of the body to the foot. Since Talus Solutions is both dedicated to the maxim that all good security programs must be built on a solid foundation, as well as entirely focused on the Healthcare market, we felt the name was appropriate.